Small changes = Big impact
November 01, 2022
How a Red Deer family is putting this into action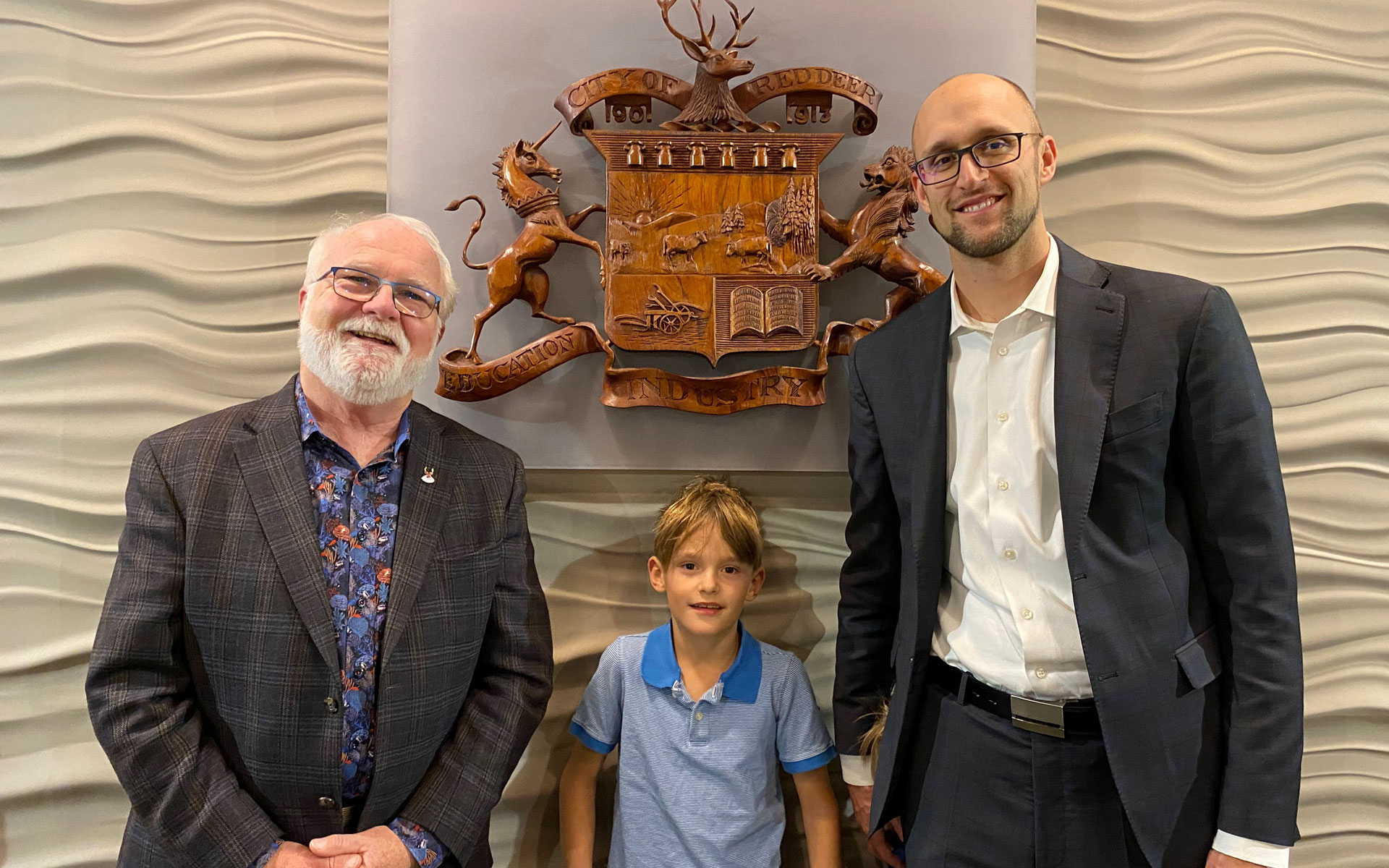 Photo: Mayor Johnston, Theo Richmond and Kit Richmond.
A Red Deer family has embarked on a challenge to not only reduce their emissions and reach a net-zero lifestyle, but also to take us along and show all Canadians that it is doable, easy and inexpensive to make the small changes that make a difference.
Ania and Kit Richmond and their two young children are participating in Live Net Zero, launched by Canadian Geographic, which will follow the households as they compete in challenges to drastically reduce their emissions and try to live a net-zero lifestyle. They are one of five households from across Canada taking on the challenge to reduce their carbon emissions at home and inspire others to do the same.
"We have seen first-hand that finding and making small changes can make a huge impact on the overall," said Kit Richmond. "We are loving the opportunity to live out these values with our kids, and finding commonalities with other Canadians, especially Red Deerians, to bring people together."
Recently, Kit sat down with Mayor Johnston to share their exciting venture and challenge.
"What an outstanding achievement they have made so far, it was an honour to talk with Kit and his wife Ania and hear how they are not only putting Red Deer on the national map, but inspiring change right here in Red Deer," said Mayor Ken Johnston. "City Council and I want to help move the message, share their story and celebrate their achievements so far. I can't wait to see what these sustainability stewards of our community are able to do with this challenge!"
The Richmond family built Alberta's first certified passive house in Calgary in 2016 and moved to Red Deer about three years ago. They are taking what they learned and applying it to their new home and modifying their lifestyle to reduce their carbon footprint.
"There are so many small and large things that we can do to improve how we live, what we do, and the way we commute. We're excited to have the opportunity to take it further and be part of a bigger picture," said Kit.
Each household received $10,000 to help reduce their carbon footprint and they face bi-weekly challenges, which started in September and run until November 27. The challenges help the families identify their greatest sources of carbon emissions and educate them on behavioral changes that can reduce emissions. Based on the challenges, the winning family will receive an electric vehicle as a grand prize.
Kit and Ania hope that by following along on their journey, the whole community can take a look at what they are doing in their homes and in their lives to make some small changes.
"Those small individual changes may not feel like a lot, but when you combine all of the small changes, it can make significant impact overall," Kit continued.
Living a Net Zero life will be a journey of learning for their family and for all Canadians. Be sure to follow along on their adventure as they take on five challenges to reduce their carbon footprint on social media and check out https://canadiangeographic.ca/live-net-zero/ for all the details.
Best of luck in the challenge, Richmond family, we will be cheering you on!