Businesses educated about Cryptocurrency ATMs
July 22, 2021
In an effort to prevent fraudsters from taking money from victims, Red Deer RCMP and the Central Alberta Crime Prevention Centre (CACPC) visited local businesses to educate staff on how they can prevent fraud from occurring at the cryptocurrency machines within their businesses.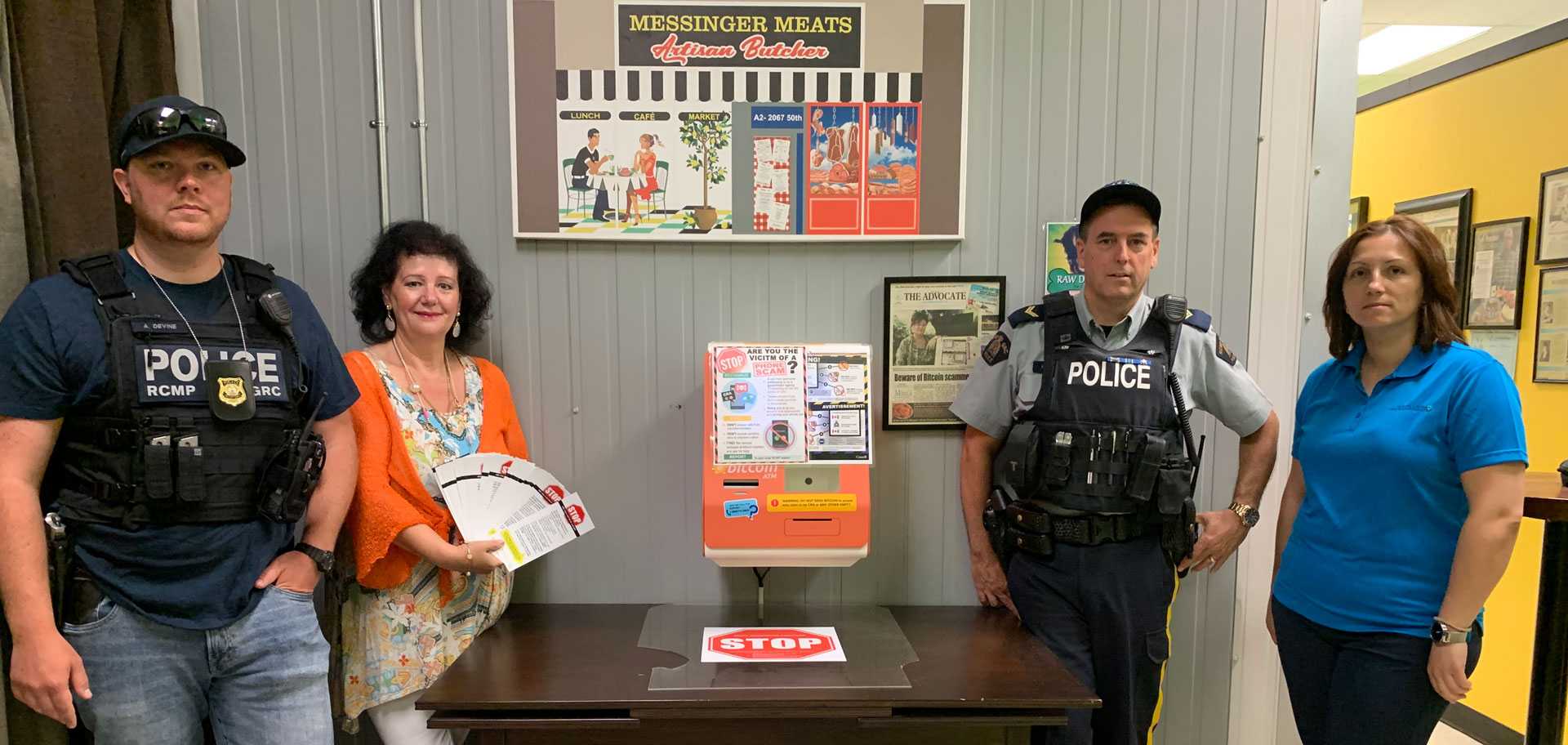 There are currently 10 cryptocurrency machines in local businesses throughout Red Deer. Unfortunately, the RCMP receives many reports of scams that utilize cryptocurrency machines, as they can be very difficult to trace and impossible to retrieve the funds, once sent.
"We know victims are being directed to these businesses where the Cryptocurrency ATMs are located. We wanted to meet with staff to educate them on what to look for and how to safely intervene," explains Cst. Andrew Devine, Red Deer RCMP. "A simple conversation or a word of caution from a staff member could prevent a victim from losing their life savings to a scam."
Red Deer RCMP previously installed warning signs at machine locations to alert potential victims of the signs of a scam, but as the number of machines has grown, so have the number of incidents where scammers have taken large amounts of money from their victims. To try thwarting these scammers, the RCMP and CACPC described to employees and owners what to look for.
"Potential victims may exhibit signs of distress when they enter the store. Often, the victim will still be on the phone with the fraudster when they enter the store," says Cst. Devine. "The fraudster is carefully coaching the victim through what to do, all while using high-pressure and deceitful tactics to convince them they need to act immediately."
Mercedes Messinger, owner of Messinger Meats, has seen these issues first-hand. "I've seen people hurriedly enter our store, looking for the cryptocurrency machine," says Mercedes. "We try to intervene by telling them to call their bank or the police directly to verify what they've been told."
Here are some important tips to remember to protect yourself from fraud:
Scammers can manipulate their phone number to make it appear as though the call is from a local source, police agency, government entity or bank. Hang up and call the organization directly to confirm the validity of the call.
There is NEVER a legitimate reason why a government agency or a police service would ask you to make payment in Bitcoin or move your money into a "secure cryptocurrency account".
Scammers rely on their ability to create a sense of urgency or secrecy to coach you along the process of withdrawing money and sending it to them. Disconnect from the call and visit your local police service to validate the story.
Scammers might threaten you with legal action if you do not follow their orders when or if you start to question them. This is a common tactic to get you to comply.
The scammers are incredibly convincing, often using careful wording to indicate they already know your banking information, where you work or other personal details that confirm they are who they pretend to be.
If you think you are being targeted or have been a victim of fraud, please call the Red Deer RCMP at 403-343-5575. You are also encouraged to report incidents of fraud to the Canadian Anti-Fraud Centre at 1-888-495-8501 or www.antifraudcentre.ca.