Red Deer RCMP receives first smudging ceremony
April 01, 2021
Winding their way through the halls of the Red Deer RCMP, tendrils of smoke fill the air as Donna, the Culture Connections Mentor with the Native Friendship Society performs a smudging ceremony.

"When people experience critical events, some piece of that person's experience remains," explains Donna. "We use sage for grounding and to remove the negative energy. It makes a difference in the atmosphere, keeping the energy around you clear."
This ceremony marks an important milestone for the Red Deer RCMP – the delivery of the Eagle Feather which those providing a statement can swear upon. The Alberta RCMP offers clients three options when providing a statement: to swear on a Bible, affirm, or affirm with an eagle feather.
The eagle feather is a symbol of spirituality and is used in many Indigenous traditions throughout North America. In the spirit of reconciliation, the RCMP has committed to using the eagle feather in the support of numerous calls to action recommended by the Truth and Reconciliation Commission of Canada. It is also a part of the RCMP's commitment to create a more inclusive and relevant justice system for Indigenous People.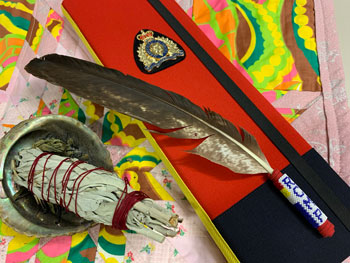 The red case symbolizes protection and healing
and includes a beaded eagle feather, and a copy of
the affirmation.
Community Policing, which focuses on developing relationships with community members, spearheaded the effort to smudge the detachment upon the Eagle Feather's arrival. Along with Donna, Nadette, the Program Director with the Native Friendship Society, joined the officers in Community Policing to perform the first smudging ceremony ever conducted at the detachment.
"Building relationships with our Indigenous community is so important," says Cst. Jeff Bond, Community Policing. "By inviting Donna and Nadette in to perform the ceremony, it shows respect for their traditions and practices."
"Inclusion removes the stigma. First and foremost, we're human beings," says Donna. "Let's carry on the conversation because that's how we learn and teach one another."

The Red Deer RCMP plan to carry out more smudging ceremonies in the future, and are eager to continue developing relationships with the Native Friendship Centre, and the wider Indigenous community.