EMS community works together to save lives
October 03, 2022
Red Deer Emergency Services has been donating life-saving gifts to their colleagues in neighbouring fire departments.

When someone is in cardiac arrest, the Lucas CPR Device is used to perform life-saving CPR on a patient. CPR can be very tiring, as well as difficult to maintain consistent rate and depth of chest compressions. The Lucas CPR device allows for a higher quality of CPR which leads to better patient outcomes.
Red Deer Emergency Services (RDES) has been using this device on their ambulances for the past eight years, and as part of the RDES equipment management program, were ready to upgrade them with newer equipment. Yet the CPR devices were still functional and that's when the idea was raised by one of our EMS Supervisors, Donavon, to donate the devices to our regional partner fire departments which do not currently have one of these machines.
"These donation will support the fire departments in providing a higher level of care for patients in cardiac arrest," says Assistant Deputy Chief Curtis Schaefer, RDES. "And I am happy to share that the donations have already had a positive impact in one of our communities."
On the same day as the donation was made to the Blackfalds Fire Department, the EMS team responded to a cardiac arrest call. At this call, they used the Lucas CPR device and saw a return of the patient's pulse.
The five Lucas CPR devices have been earmarked for fire departments in Blackfalds, Sylvan Lake, Penhold and Red Deer County.
"We are happy to work with our community partners to ensure the greatest possible outcomes for all of our patients."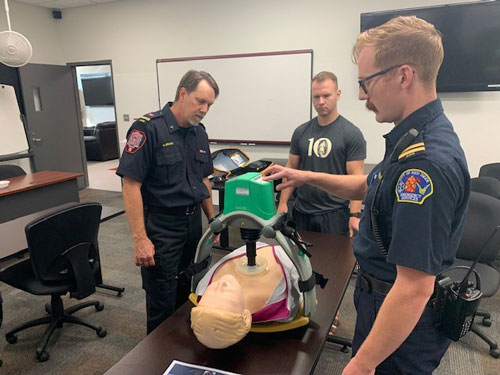 Brad Brown and FF Hayden Crawford receive a tutorial of the device from RDES EMS Supervisor Donavon Brandon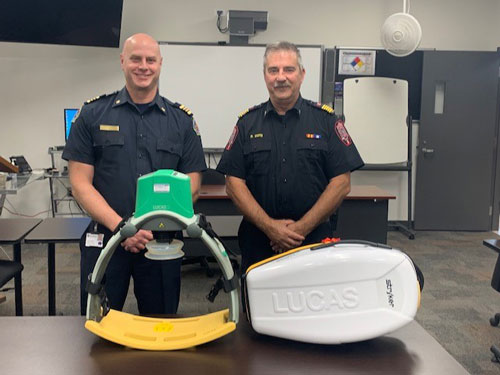 Asst. Deputy Chief Curtis Schaefer (Red Deer) and Chief Robert Cote (Blackfalds)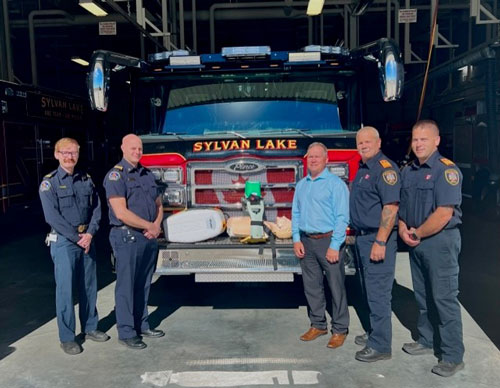 Donovan Brandon, RDES, Asst. Deputy Chief Curtis Schaefer (RDES), Ron Lebsack (Town of Sylvan Lake), Chief Cliff Brausen (SLFD), Deputy Chief Steve Scanland (SLFD)