Honourary Senior named during Mayor's Garden Party
October 25, 2021
Each year Red Deer's Mayor chooses a honourary senior who is recognized as a part of the Mayor's Garden Party for their contributions to our community, province and country.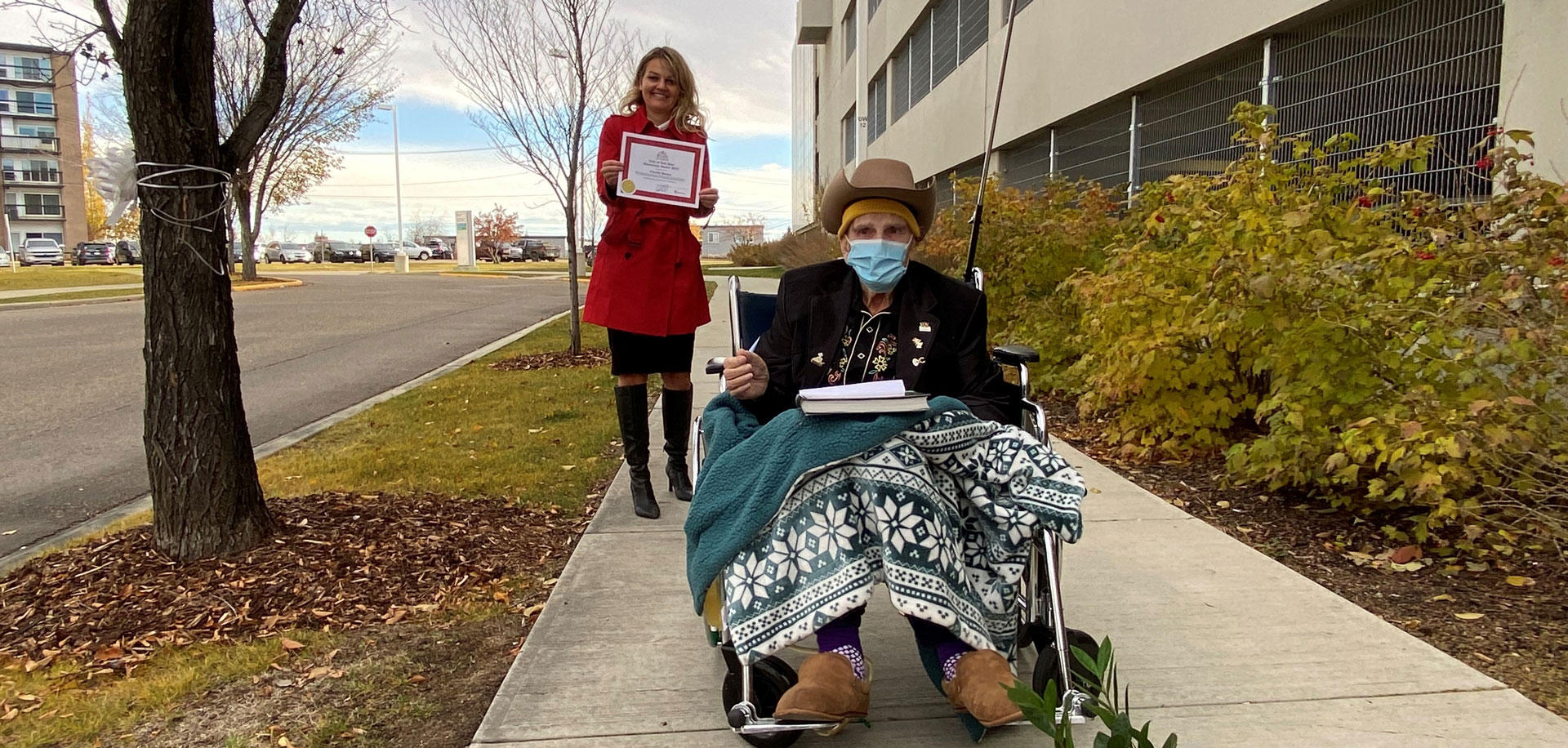 The Mayor's Garden Party is a time-honoured tradition for Red Deer seniors and those who hold the City's highest office. However, for the second year in a row, due to COVID-19, the Mayor's Garden Party took on a new form – a traveling form.
For the past several years, usually in June as part of Alberta Seniors' Month, the Mayor and City Council welcome hundreds of seniors to the gardens of City Hall Park for the annual Mayor's Garden Party. In 2020, amid the COVID-19 pandemic and restrictions on mass gatherings, the traditional Garden Party was cancelled. Later that year, Mayor Tara Veer and members of City Council were able to visit lodges and senior care facilities to deliver flowers and visit with residents and staff.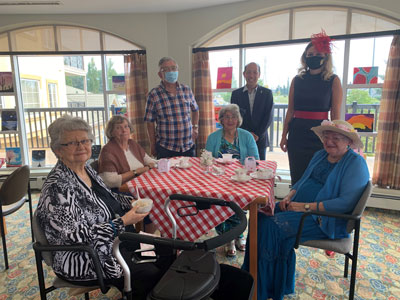 This year, with safety of residents and staff top of mind, the party took to the road again, this time with a sweet twist.
"Even though we were unable to host our seniors in the gardens of City Hall Park again this year, we couldn't miss this annual opportunity to celebrate them," said Mayor Tara Veer. "We would like to extend our heartfelt thanks to our seniors for sharing your skills, knowledge and experience through the years. You all have contributed to the strength of our community, province and country, and we honour you for the legacies you have built. "
Over the course of two days in late July, Mayor Veer and members of City Council visited 10 different lodges and senior care facilities accompanied by Holy Moly Mini Donuts food truck, serving up ice cream and fruit to the residents and staff. Each visit took place adhering to provincial health orders and with resident safety top of mind.
"It was so heartwarming to see the excitement on the faces of everyone in attendance. After the last year and a half, and everything they have been through, having an activity that allowed them to gather safely was amazing," said Mayor Veer. "To us, it's just a bowl of ice cream; to these seniors it was so much more. It was a reason to gather and socialize; it was a time with friends; and was a way to keep current with our city and engage with elected officials."
Residents also each received a card from Mayor Veer and City Council. Holy Moly Mini Donuts food truck provided a variety of ice cream flavours for residents, including vanilla, chocolate, cookies & cream and the clear favourite, maple walnut. Bowls of mixed berries were also available for those who couldn't have dairy. In total, over 1,040 residents and staff were served over two hot July days.
"My hope is that by this time next summer, the pandemic is firmly behind us and we can welcome all of our incredible seniors back to City Hall Park in person, for the traditional Mayor's Garden Party once again."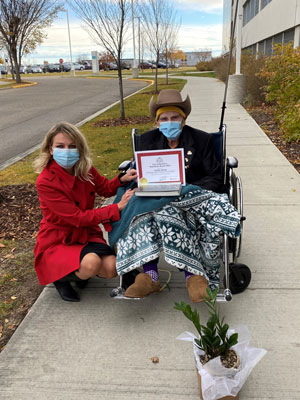 This year, Mayor Tara Veer selected Charlie Brawn from Parkvale Lodge as the recipient of the Honourary Senior designation. In lieu of publically acknowledging him, Mayor Veer visited Charlie to thank him for everything he has done for our community and province.
At 92 years young, Charlie has been a strong community builder for many years. Charlie has volunteered and donated valuable collections of models to Sunnybrook Farm throughout his years in Red Deer, first moving here in 1988. An avid collector, and musician, Charlie is fixture in our community and is well loved by so many.
Charlie was joined by many friends and family to receive his award, and was moved to tears by the designation. Charlie said many times through his visit how much he loved Red Deer, the people in his community and everything he has accomplished in his lifetime. Charlie is a true community builder, and Red Deer is a better place for having him in it.
"It was truly an honour to meet Charlie safely outside to present him with this designation," said Mayor Tara Veer. "Charlie, like so many seniors in our community, share their knowledge and experience with us, and contrubute so much to our community. I want to thank Charlie for his friendship many contributions."