Capstone's Kindness Tree encourages kindness
December 06, 2022
Over 500 holiday ornaments have been hand painted by local youth and are now looking for a special home!

Students from St. Joseph High School, Gateway Christian, St. Teresa of Avila, Central Middle School, Westpark Middle School, Escuela Vista Grande, École Camille J. Lerouge and youth from the Red Deer Family Resource Network have been hard at work this holiday season creating ornaments which will be on display at the Kindness Tree in Capstone from December 5 through to the end of the year. Residents are encouraged to visit Canada 150 Square and choose an ornament to take home with them, and then gift another ornament to someone in their community.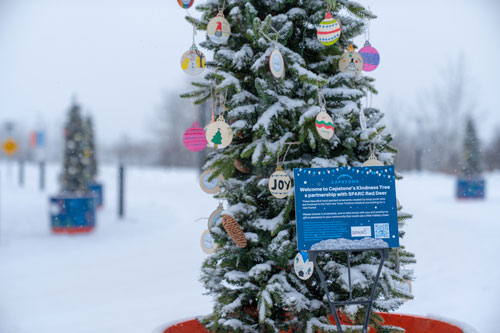 "Once again, hundreds of youth across Red Deer have shown off their artistic abilities by creating unique hand painted ornaments that will be displayed on the Kindness Tree. But more importantly, these students remind us that a little kindness can go a long way," said Mayor Ken Johnston.
"I challenge residents to spread a little cheer this holiday season by gifting an ornament from the Kindness Tree to someone in your own community. Perhaps a family that has recently moved into your neighbourhood, a new student at school or work colleague that you haven't met, or a neighbour down the street that might be going through a difficult time. These beautiful ornaments are meant to be shared with one another"
The Kindness Tree is just one of many elements in Capstone that favours human connection, and creates a balance between living, working, culture and recreation. Other upcoming holiday events and activations include a Late-Night Shopping event on December 8, a month-long holiday photo contest, on-site festive décor, light displays and more. To learn more visit liveincapstone.ca/events.
SPARC Red Deer is a local non-profit coalition created to strengthen positive assets and resilience in communities. Paint the Town Positive – the youth-driven chapter of SPARC Red Deer worked with Capstone to create the Kindness Tree with the goal to give back and spread kindness in the community. To learn more about SPARC, visit sparcreddeer.ca.